If you dig GARAGE ROCK, SURF, THE RAMONES, X, SEXY NAKED WOMEN, CHEESECAKE PICS, PUNK ROCK, HOT RODS, BIG DADDY ROTH or other cool stuff, then, baby, you have come to the right place!!!
Here at BLOOD RED, we are committed to bringing you the finest in garage, surf and punk rock. Real music for real people. If you worship the ground upon which folks like THE RAMONES, THE SONICS, THE CRAMPS, THE TRASHMEN, LINK WRAY, THE CHESTERFIELD KINGS, THE FLESHTONES, SATAN'S PILGRIMS, THE BOSS MARTIANS, SCOTS and other gods of rock-n-roll strut their stuff, then you're gonna love the BLOOD RED lifestyle!
Check out our current listing of BLOOD RED RELEASES. You can also find out everything you need to know about ordering our records through the mail.
If it's a Blood Red update you're looking for, why not visit our BLOOD RED NEWS PAGE. Get the latest gossip and dirt directly from us.

 Wow!! Can you even believe that BILLY ZOOM and DJ BONEBRAKE of X would record something for Blood Red? Well, they have, and if you go to the RAMONETURES page, you can find out all about it!!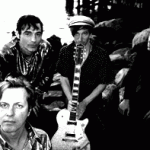 Do you dig the SUPER ROCK sound of the FLESHTONES??? Well, they have a brand new album out on Blood Red, and here's where you can find out all about their SOLID GOLD SOUND.

And of course, you won't want to miss our page dedicated to one of the coolest bands ever to surf the cold waters of the Pacific Northwest. Click right here to pay a visit to our SURF TRIO PAGE.
 The Ramones may be gone, but why just sit around and be miserable when you can go see THE ROMANES!! The world's greatest Ramones tribute band has its own page in the Blood Red site!

 If you dig cool Lowbrow art, you'd be NUTZOID to not check out our little gallery of trash and sleaze on our LOWBROW ART PAGE!
 We also have some cool pics and things we don't really know what to do with. We've placed them on our BLOOD RED FUN PAGE!
And, by all means, if you love beautiful women with beehive hairdos and great, curvy bodies, you'll definitely want to take a look at our BLOOD RED SEXY GIRLS PAGE. Don't worry; this ain't some hardcore thing we're offering up. It's just good, clean, wholesome sexploitation. The way God intended it. We've just added some cool stuff, so take a look!
Here at Blood Red, we like lots of cool things that you might dig, too, so click here to take a look at our ultragroovy and newly expanded BLOOD RED LINKS PAGE.
If you want to send us an email, our address is:
We'll have more stuff very soon ­ from news of upcoming releases to samples from our current stuff. Thanks for visiting, and be sure to tell all yer pals about
Blood Red Vinyl & Discs.